High-speed drive up to a maximum of 1,212mm/s
The world's fastest CNC horizontal axis, in-line coordinate measuring machine with world-beating acceleration (11,882mm/s2) and measuring speed (at the moment of contact: 30mm/s) as well as drive speed. This system contributes to the reduction in total cost as an auto auto- measurement system, either in a line or at line side where a reduction in measurement time is required, and can also serve as a dedicated machine or a substitute system for gauges.
Space-saving design helps installation in a production line
This series comprises horizontal coordinate measuring machines intended for installation between processing machines. The horizontal-axis design allows this system to use the same workpiece handling and routing as the processing machines use.
Accuracy assurance throughout a wide temperature range (5 to 40°C)
Real-time thermal compensation applied to measurements and origin- setting assure excellent accuracy (referred to 20°C) over a much wider range of temperature than conventional CMMs. The graph below shows the effectiveness of the scheme.
Highly effective thermal compensation of the MACH-3A 653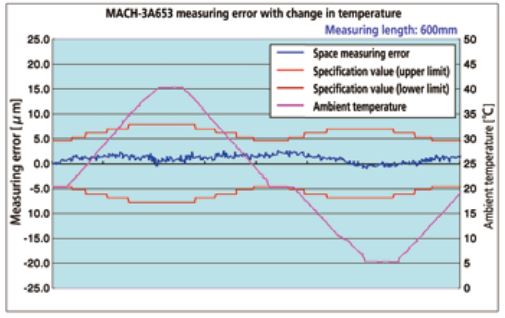 All-in-one construction
In order to achieve further improved space-saving, dust resistance and adaptation to a wide range of temperatures, the MACH-3A employs an all-in-one construction. The system integrates the main unit, data processor (PC) and monitor into one location on top of the mounting stand to achieve space-saving and ease of installation. Additionally, to improve resistance to temperature environment and dust resistance, units other than the monitor are located in a cabinet in which a heat exchanger keeps the ambient temperature constant.
Model

MACH-3A 653

Order No.

360-412

Type

Horizontal Arm High Speed, In-line

Range

X-23.62″ (600mm)

Y-19.68″ (500mm)

Z-11.02″ (280mm)

Resolution

0.0000039″ (0.0001mm)

Guide Method

Mechanical bearing on each axis

Maximum Drive Speed 3D

47.71"/s (1,212mm/s)

Maximum Acceleration 3D

1.21G (11,882mm/s2)

Mass

3306lbs(1500kg)

Dimensions

73.62x 50.39x 75.59in

1870x1280x1920mm

ISO

ISO-10360-2:2009 E0,MPE

SP25:

19-21°C (66.2-69.8°F) (2.2+3.5L/1000)μm

15-25°C (66.2-69.8°F) (2.5+4.2L/1000)μm

10-30°C (50.0-86.0°F) (2.9+5.0L/1000)μm

5-35°C (66.2-95.0°F) (3.2+5.7L/1000)μm

TP7:

19-21°C (66.2-69.8°F) (2.5+3.5L/1000)μm

15-25°C (66.2-69.8°F) (2.8+4.2L/1000)μm

10-30°C (50.0-86.0°F) (3.2+5.0L/1000)μm

5-35°C (66.2-95.0°F) (3.5+5.7L/1000)μm

ISO-10360-4 MPETHP/MPTTHP†

SP25: 4.0μm/40sec

ISO-10360-5: 2010 PFTU,MPE

SP25: 2.2μm

TP7: 2.5μm
Dimensions