Rapid Near-Line/In-Line Measurement Solutions
The MACH Ko-ga-me — a fast, compact, lightweight and easy-to-mount CMM — is the ideal solution for automated cells. The guaranteed accuracy temperature of 10°C to 35°C provides flexibility and performance in your production environment. Mounted on any rigid frame, including machine tools, the MACH Ko-ga-me will provide CMM capabilities without the space requirements of a full-sized machine and in-process measurement without setup and breakdown. The small-sized 3-axis CNC measuring head incorporates high accuracy and high speed with the flexibility to implement numerous configurations for inspection applications in the quality lab or directly within the manufacturing process. The MACH Ko-ga-me's flexible design allows implementation to meet specific or multiple manufacturing applications:
As a stand-alone inspection system in the quality lab or in the manufacturing environment, the MACH Ko-ga-me functions like any other CMM – parts can be placed in the measuring volume and measured individually or with a part program.
As process inspection within computer-integrated manufacturing (CIM), the MACH Ko-ga-me can be implemented near line with operator part loading or in-line with robotic part loading for an automated closed-loop control process.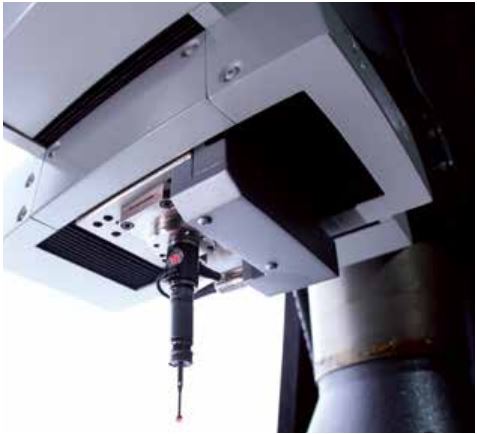 Features & Benefits
Versatility
Versatility of the MACH Ko-ga-me allows for quick and easy setup of applications. Modifications can be made on the fly and when critical features in the manufacturing process change. Without expensive masters to maintain, once the A2LA certified calibration is complete, only a simple master ball style probe calibration is necessary to achieve the continuous rated accuracy.
Flexibility
Because the MACH Ko-ga-me is a compact CMM, it offers flexibility when production or manufacturing requirements change. It can be easily moved, reconfigured to handle a completely different part family or even used for general lab inspection. The MACH Ko-ga-me supports touch probe (TP200) or scanning probe (SP25) technology.
Speed
With a maximum drive speed of 13.3″/sec (340mm/s), and an acceleration of 6,750mm/s2 (0.68g), these high-speed capabilities provide the
MACH Ko-ga-me the ability to rapidly acquire critical features, allowing for a quicker feedback and compensation of the manufacturing process, reducing scrap and increasing throughput.
Minimal Site Preparation
With only a 120V 15A power requirement, no requirement for compressed air and a small footprint, the MACH Ko-ga-me can be used almost anywhere a need exists. The lightweight design allows for the unit to mount easily anywhere within the manufacturing process.
Automation Ready
Using standard features of MCOSMOS, the world's standard in metrology software, MACH Ko-ga-me easily interfaces into factory automation and manufacturing cells. With extended I/O capability, interface to robots, conveyors, clamps and sensors is seamless.
Guide Method
By utilizing a linear motion bearing design instead of air bearings, the MACH Ko-ga-me performs high-speed measuring without sacrificing accuracy.
Environment
Designed to be used on the shop floor, using a sealed design and built-in thermal compensation, the MACH Ko-ga-me is accurate within a temperature range of 50~95º F (10~35º C).

Applications
Automotive/ATV/Marine
Pump Housings
Rocker Arms
Motors
Alternator Housings
Pistons
Bearing Races
Filter Assemblies
Piston Rods
Brake Components
Wheel Hubs
Fuel Lines
Throttle Body
Aerospace
Implants
Impellers
Pumps
Surgical Instruments
Energy (Oil/Gas/Solar/Wind/Nuclear)
Flanges
Fittings
Pumps
Housings
Couplings/Connections
Hardware
Specifications
Model

KGM12128-B

Type

3D CNC Flexible Gage

Range

X-4.72″ (120mm)

Y-4.72(120mm)

Z-3.14(80mm)

Resolution

0.00000078″(0.02µm)

Guide Method

Straight-motion hard bearing

Maximum Drive Speed 3D

13.38"/s (340mm/s)

aximum Acceleration 3D

0.68G (6,750mm/s2)

Mass: main unit

61.7lbs (28kg)

Macine Dimensions (WxDXH)

15.03″x14.68″x30.90″

(382mmx373mmx785mm)

Measuring Accuracy

TP200/SP25:

19-21°C (66.2-69.8°F) (2.0+5.0L/1000)μm

15-25°C (66.2-69.8°F) (2.3+5.7L/1000)μm

10-30°C (50.0-86.0°F) (2.7+6.5L/1000)μm

10-35°C (50.0-95.0°F) (3.0+7.2L/1000)μm

Probing Error

TP200/SP25: 2.0μm

Scanning probing error

SP25: 2.5μm
Dimensions