High Efficiency
Controlling the variation of measurement data
Automatic edge detection
The "automatic edge detection" function will provide high reproducibility in measurements regardless of the skill level of the operator.

Image auto focus
Appropriately setting up the "image auto focus" function will enable reliable and high-speed height measurements.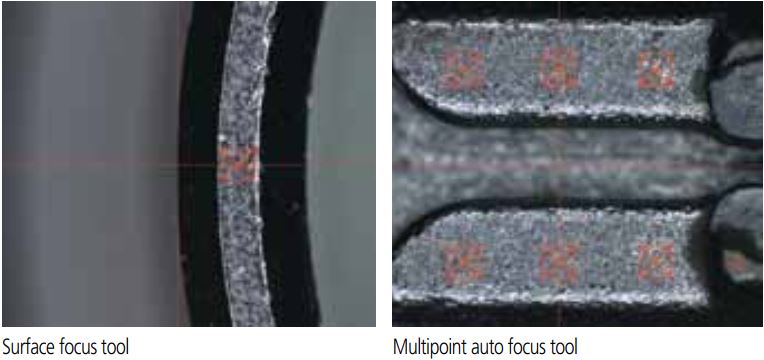 Automatic measurement can be started just with rough positioning
Pattern search
The "pattern search" function automatically recognizes the registered form of the workpiece.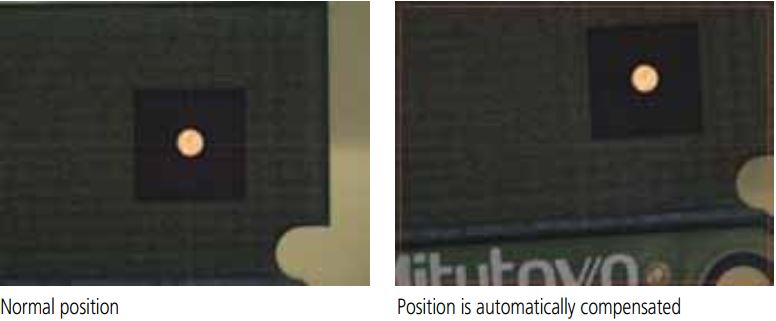 Manual tool
By applying the "manual tool" measurement to automatic measurement, measurement can be performed with temporary positioning. Therefore, automatic measurement can be started from any position on the stage. Making a positioning jig is not required, which results in cost and man-hour reduction.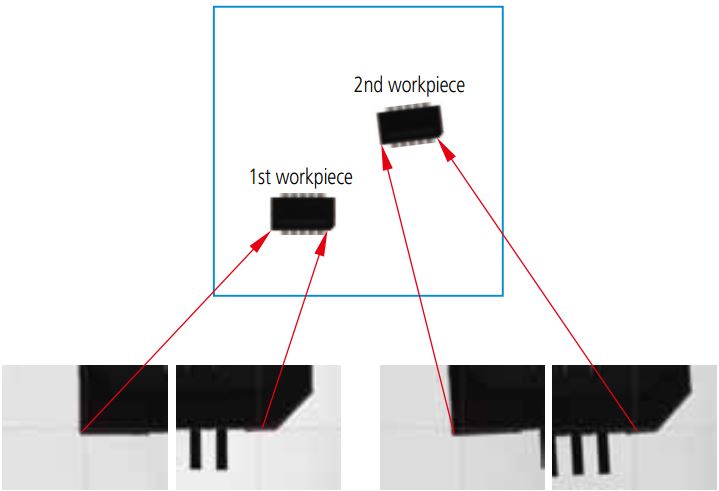 Flexible Utility
Interchangeable objective lens zoom unit
The newly designed 7:1 ratio zoom unit and interchangeable objectives provide 0.5-7X optical magnification.
Z-objective 1x

Z-objective 1.5x

Z-objective 2x

Simple but Advanced Platform
One-click tool
After selecting the element to be measured (circle, line, etc.), just one click on an edge enables high-accuracy measurement regardless of the proficiency level of the operator. The outlier removal function automatically excludes bad data caused by burrs and dust.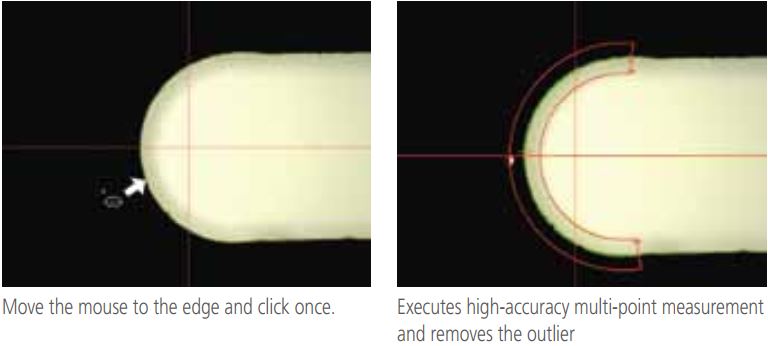 QVNavigator
Anyone can easily run a repeat, identical measurement. An image or diagram of the workpiece can be registered as an icon in an automatic measurement program, enabling the target program to be called and run quickly.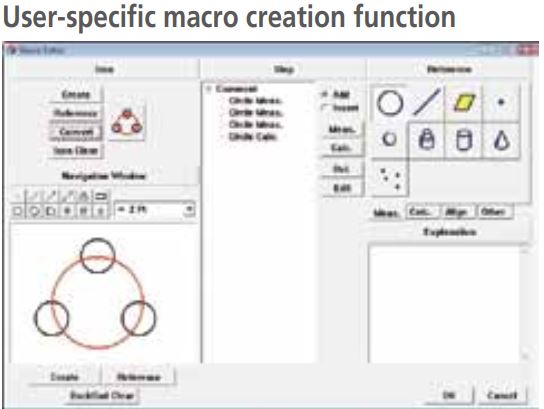 QVEasyEditor
A teaching method is adopted in which programs are automatically recorded while measurement is performed. The insertion, revision, addition, and deletion of the part program can be performed easily using the tree-structure display. Also, execution of only a certain portion of the program after editing can be performed for the purpose of confirmation. Power-user-oriented QVBasicEditor is also available as before.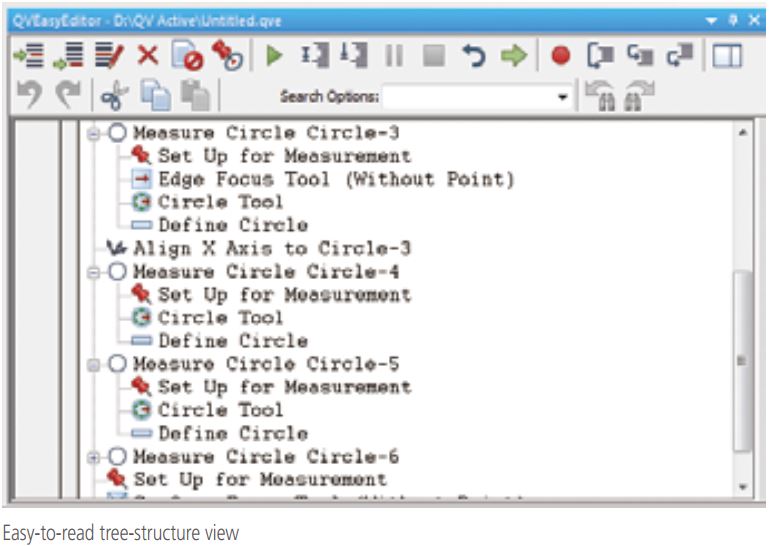 Customizing the window layout
Access control
Window layout can be customized and registered according to applications. For example, an administrator can display all the functions; an operator can display only the operation-related items.
High-definition color camera
Measurement and observation is performed using high-quality and high-definition images, which prevents operator fatigue even over long periods of observation.

Matching lighting to the feature
Transmitted, co-axial and 4-quadrant ring lighting is provided so that workpiece illumination can be set independently from the front, rear, right and left directions. This enables more reliable measurement by enhancing the sharpness of the edge of the feature to be measured
.

Specifications
Model

QV ACTIVE 202 TOUCH PROBE QVT1-L202Z1L-D

Order No

364-109Z

Measuring Range X-Axis

0-9.84in 0-250mm

Measuring Range Y-Axis

0-7.87in 0-200mm

Measuring Range Z-Axis

0-5.91in 0-150mm

Resolution

0.1 µm

Measuring accuracy

E1(X,Y) = (2+3L/1000)

E1(Z) = (3+5L/1000)

E2(X,Y) = (2.5+4L/1000)

Max stage loading

22lbs 10kg

Mass

265lbs 120kg

Illuminations

(White LED) Contour / Coaxial / 4-quadrant ring light

Magnification change system

Zoom optical system with 8 positions (Standard 1.5X magnification lens)

Sensor type

High-resolution CMOS color camera

Optional objective lenrs

1X and 2X magnification

Factory option

Series 364 (TP) Touch-Probe option
Dimensions