Advanced Analysis Tools
The MX63 series' various observation capabilities provide clear, sharp images so users can reliably detect defects in their samples. New illumination techniques and image acquisition options within OLYMPUS Stream image analysis software give users more choices for evaluating their samples and documenting their findings.
The Invisible Becomes Visible: MIX Observation and acquisition
MIX observation technology produces unique observation images by combining darkfield with another observation method, such as brightfield, fluorescence, or polarization. MIX observation enables users to view defects that are difficult to see with conventional microscopes. The circular LED illuminator used for darkfield observation has a directional darkfield function where only one quadrant is illuminated at a given time. This reduces a sample's halation and is useful for visualizing a sample's surface texture.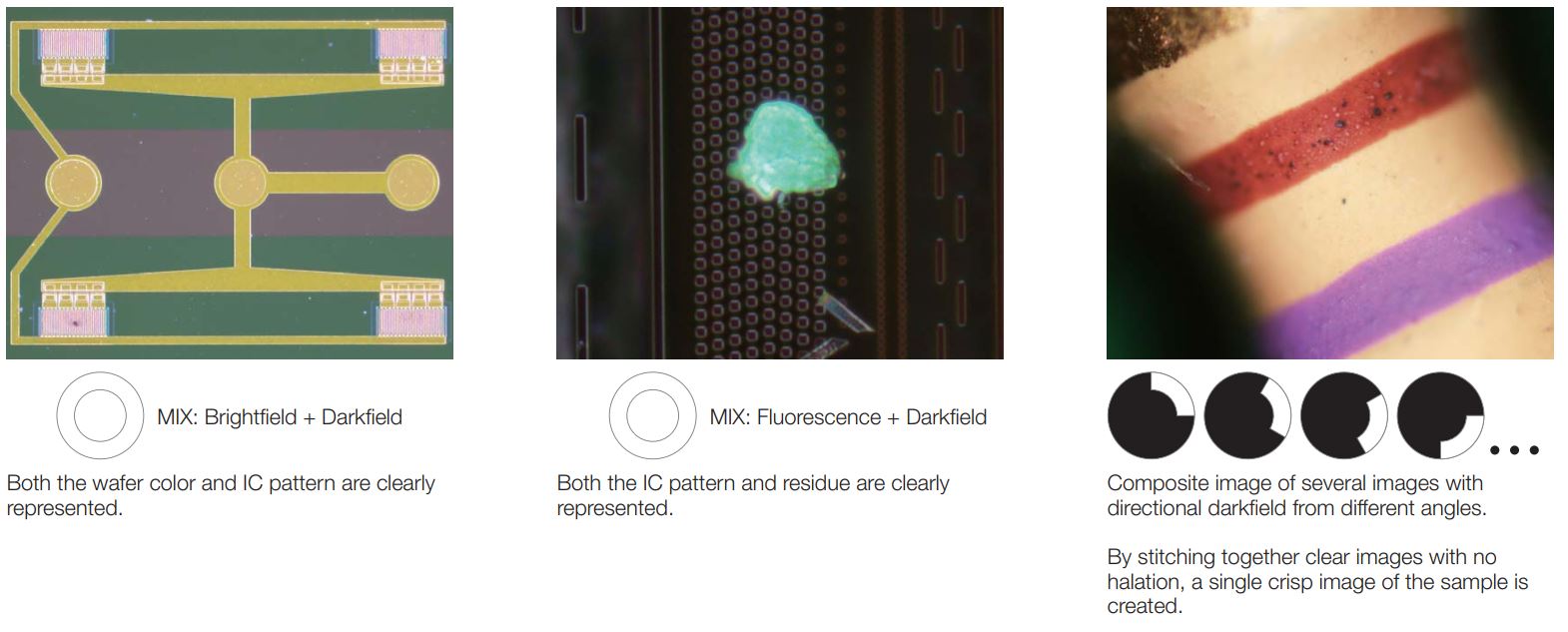 Capture Both Bright and Dark Areas Using HDR
Using advanced image processing, high dynamic range (HDR) adjusts for differences in brightness within an image to reduce glare. HDR improves the visual quality of digital images thereby helping to generate professional-looking reports.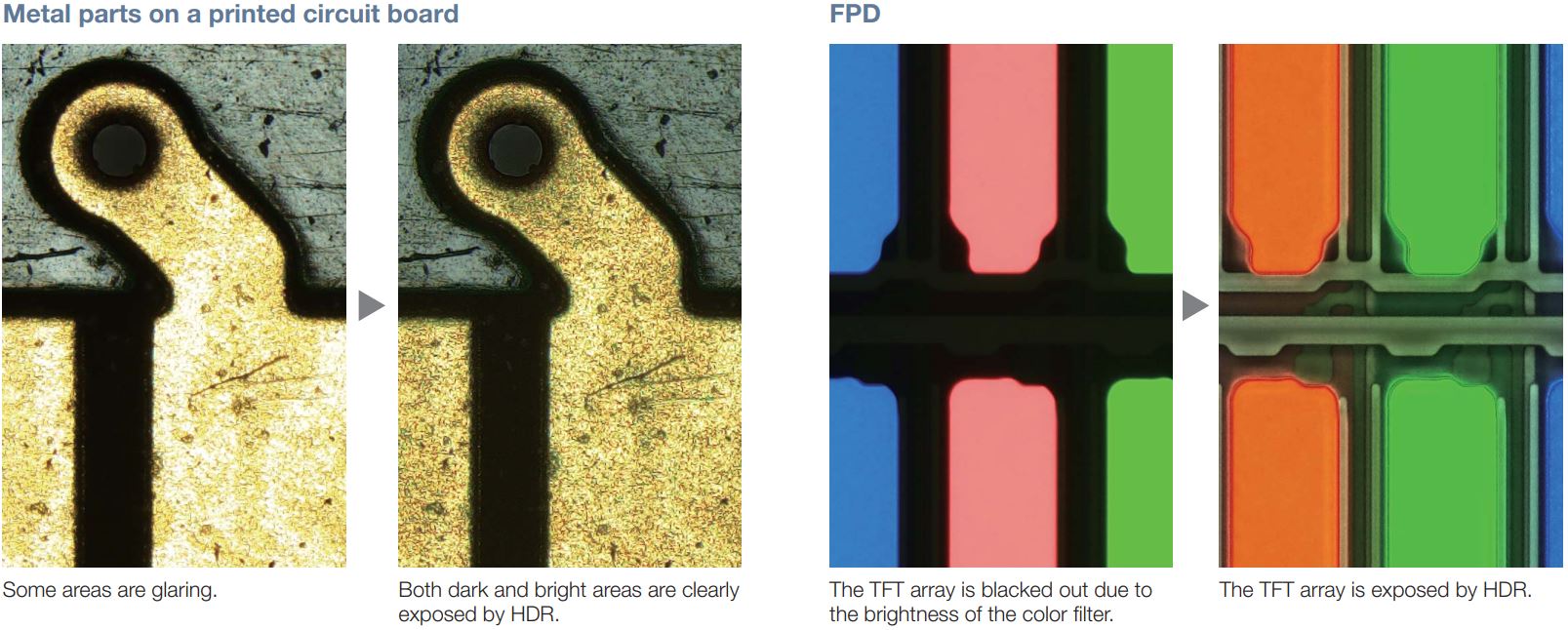 From Basic Measurement to Advanced Analysis
Measurement is essential to quality and process control and inspection. With this in mind, even the entry-level OLYMPUS Stream software package includes a full menu of interactive measurement functions, with all measurement results saved with image files for further documentation. In addition, the OLYMPUS Stream Materials Solution offers an intuitive, workflow-oriented interface for complex image analysis. At the click of a button, image analysis tasks can be executed quickly and precisely. With a considerable reduction in processing time for repeated tasks, operators can concentrate on the inspection at hand.

Applications
Reflected light microscopy spans a range of applications and industries. These are just a selection of examples of what can be achieved using different observation methods.
Specifications
MX63

Optical system

UIS2 optical system (infinity-corrected system)

Microscope frame

Reflected light illumination

White LED(with Light Intensity Manager) 12 V 100 W halogen lamp, 100W mercury lamp 

Brightfield/darkfield/mirror cube manual changeover. (Mirror cube is optional.) 

3 position coded mirror units changed by manual operation 

Built-in motorized aperture diaphragm (Pre-setting for each objective, automatically full open for darkfield) 

Observation mode: brightfield, darkfield, differential interface contrast (DIC)*1, simple polarizing*1, fluorescence*1, infra-red*1 and MIX observation(4 directional darkfield)*2

*1 Optional mirror cube, *2 MIX observation configuration is required

Transmitted light illumination

Transmitted light illumination unit: MX-TILLA or MX-TILLB is required. 

– MX-TILLA: a condenser (NA 0.5) and an aperture stop 

– MX-TILLB: a condenser (NA 0.6), an aperture stop and a field stop 

Light source: LG-PS2 (12 V,100 W halogen lamp) Light guide: LG-SF 

Observation mode: brightfield, simple polarizing    

Focus

Stroke: 32 mm 

Fine stroke per rotation: 100 μm

Minimum graduation: 1μm  

Upper limit stopper and torque adjustment for coarse handle

Maximum load weight (including stage and holder)

8 kg

Observation tube

Wide-field (FN 22 mm)

Erect and trinocular: U-ETR4 

Erect, tilting and trinocular: U-TTR-2 

Inverted and trinocular: U-SWTR-3

Inverted and binocular: U-BI30-2 

Inverted, tilting and binocular: U-TBI30

Super-wide-field (FN 26.5 mm)

Erect, tilting and trinocular: MX-SWETTR (optical path switchover 100% (eyepiece) : 0 (camera) or 0 : 100%) 

Erect, tilting and trinocular: U-SWETTR (optical path switchover 100% (eyepiece) : 0 (camera) or 20% : 80%) 

Inverted and trinocular: U-SWTR-3

Motorized nosepiece

Brightfield 

Motorized sextuple with a slider slot for DIC: U-D6REMC 

Motorized centerable quintuple with a slider slot for DIC: U-P5REMC

Brightfield and darkfield 

Motorized sextuple with a slider slot for DIC: U-D6BDREMC 

Motorized quintuple with a slider slot for DIC: U-D5BDREMC 

Motorized centerable quintuple with a slider slot for DIC: U-P5BDREMC

Stage (X × Y)

Coaxial right handle with built-in clutch drive: MX-SIC8R 

Stroke: 210 x 210 mm 

Transmitted light illumination area: 189 x 189 mm

Coaxial right handle with built-in clutch drive: MX-SIC6R2 

Stroke: 158 x 158 mm 

(Reflected light use only)

Weight

Approx. 35.6kg(Microscope frame 26kg)
Dimensions