| | |
| --- | --- |
|  X-ray Tube | 120 kV / 200 µA |
|  Min. Resolution | 0.2㎛ |
|  Table Size | 12inch wafer |
|  Detector | 6 inch FPXD |
|  CT Scan  Method | Oblique CT / Cone beam CT |
|  Foot print | 2,380 x 1,450 x 2,120 mm Control Box : 600 x 1,250 x 1,030 mm |
|  Weight | 7,000kg |
Nano-focus X-ray Inspection System
Nano-focus Tube of 400 nano resolution is installed which is specialized for Semiconductor Packaging, Wafer Level Packaging(WLP) requiring detection of Sub-micron defects.
Able to trace and inspect defected area precisely by precise movement of axis with Anti-vibration table.
Tomography is available if 3D CT module is added and Wafer Bump Automatic Inspection is available from loading to inspection with wafer handler systems.
Non-destructive analysis system for Wafer Level Packaging

High resolution image with Dual Type CTs

TSV, Micro Bump, Pattern
Wafer Bump Void

Wafer TSV Void

Applications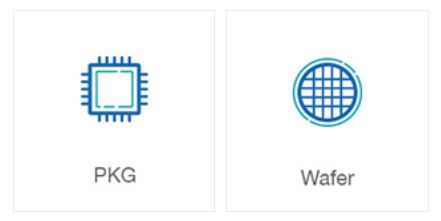 SEC is the best inspection system company developing & selling industrial X-ray inspection system and SEM(Scanning Electron Microscope).We develop and offer linear accelerator and semiconductor packaging system for LCD driver IC as well.
Since established in 1991, based on over 20 years of accumulated technical know-how, we have been continuously developing backbone of e-beam inspection equipment in Korea.
SEC has its own competitiveness against global companies by continuously localizing X-ray generater and developing new technologies.
Also, go through continuous technology development and aware of the current economic and technological environment, we will continue to constantly challenged to expand business area and move into the future Global Leader.
SEC stands for 'second'; a standard unit of time, which comes in our basic value to meet customer satisfaction by delivering punctual response for customer's request.
" Superior Service & Exciting Challenge! "
From 21th century, we build our vision "Superior Service & Exciting Challenge!"
that pursue our challenge spirit as well as punctuality.
SEC will strive to keep the principle of providing excellent products with reasonable price at the right time and to satisfy customers with best service.